Flathead Lake Real Estate Sales
2022 Annual Report
The 2022 Flathead Lake real estate market placed third for all-time annual waterfront sales volume following two consecutive record-breaking years for the market. There were a total of 51 reported sales representing just over $113M in total sales volume for the year.
This is a 45% decline in transactions and a 48% decrease in total volume compared to 2021. While the number and volume of sales dropped significantly from the stratospheric highs of the previous year, prices still held and even increased. The average sale price on the lake came in at $2.2M, with the adjusted price per waterfront foot at a record $9,522.
Rising interest rates and inflationary pressures have imposed a cooling effect on the primary residential market that is spilling over into the waterfront sector. Several high-priced listings have been withdrawn from the market and buyer demand has ebbed in some segments. Overall prices are still relatively high, but the lack of inventory will likely result in fewer transactions and lower sales volume in 2023.
---
December Sales:
Pricing and Sales Summary: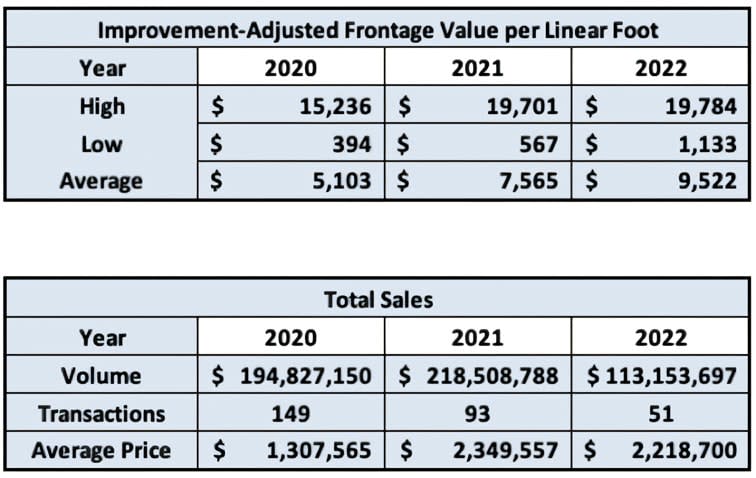 The distribution of sales across various price points moderated in 2022 compared to the previous year. There was over $80M in total volume for $5M+ properties in 2021. This same sector reported only 4 transactions and a total of $26M in 2022.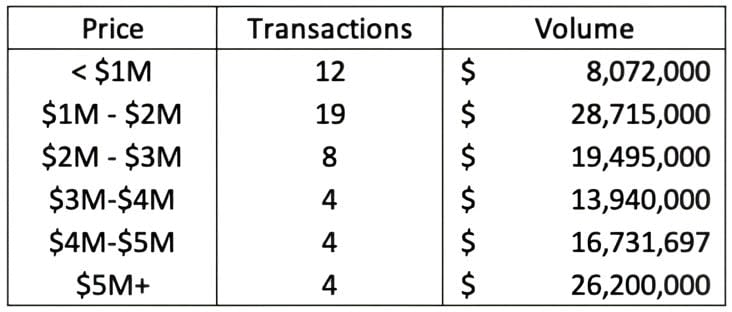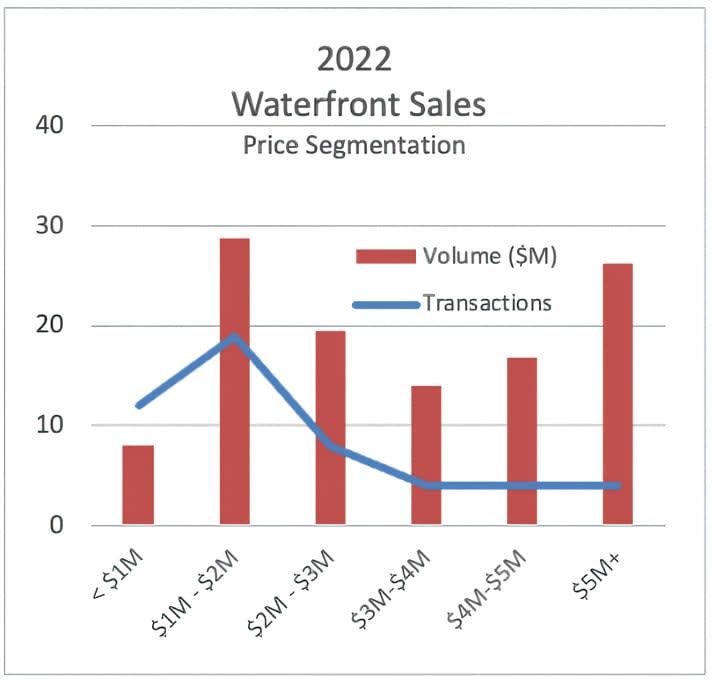 The graph below represents annual transactions and sales volume on Flathead Lake since 2004. Now that 2022 numbers are in the books, the astounding records of 2021 more clearly come into focus.
December Significant Sale
23695 Wild Horse Shores, Dayton
183 Feet of Flathead Lake Frontage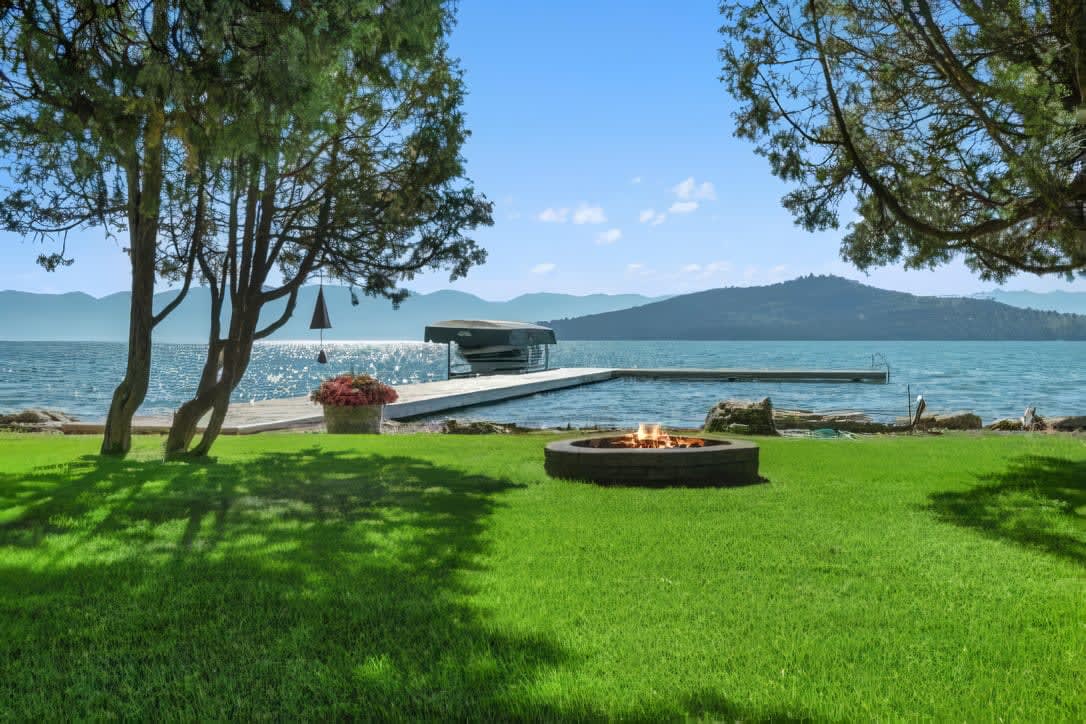 3198 sf, 3Br/2.5Ba, Plus guest cabin
3.7 Acres including Cherry Orchard
List Price: $2.995M
Flathead Lake living at its finest with approx. 183 ft. of level pebble beach frontage and views of Wild Horse and Cromwell Islands that includes a beautiful 3,198 sq ft. 3 bed, 2.5 bath, 2 car garage home, a 2 bed, 1 bath guest cabin and established operating cherry orchard on 3.72 manicured acres.
This fine legacy property features 2 efficient heat pumps to supply heat and A/C and the propane fireplace in the great room is perfect for a cozy evening in. The thoughtful design incorporates main-level living including a large laundry room w/ utility sink, freezer & nearby walk-in pantry.
Active Waterfront Listings
Residential and land waterfront inventory continues to hold record low levels. The combination of record sales over the past 24 months along with a lack of motivation for sellers to give up their Montana real estate continues to put downward pressure on inventory.
With several high-priced listings exiting the market, median residential prices have been hovering around $4M but jumped to over $5M this month with only 17 higher-priced listings. Land prices held at just under $1.5M. With such limited inventory of both residential and land listings, median price trends have become volatile with higher-priced listings coming on and off the market.
Based on these data, it appears we have reached a plateau in prices and the sustainable bottom of inventory for the time being.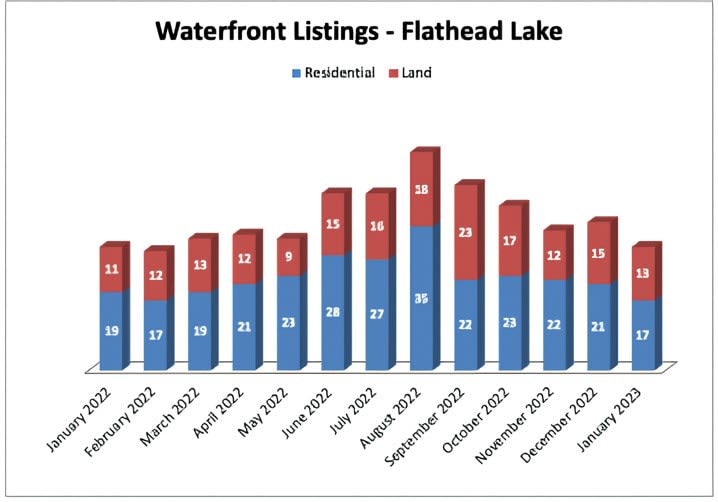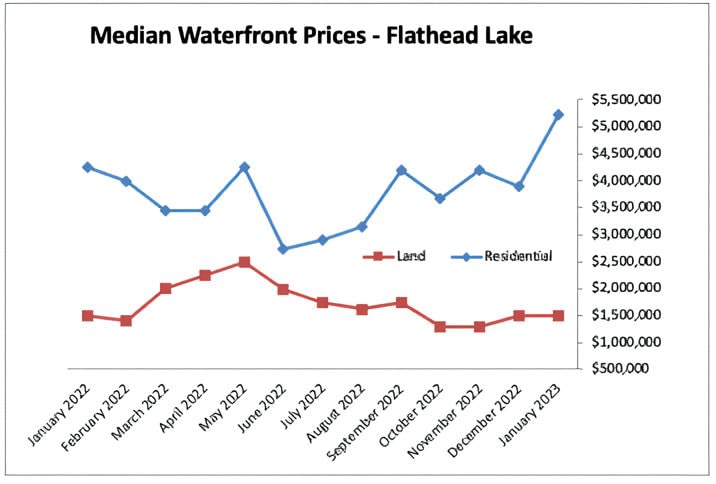 Flathead Lake Condominium Market
With nearly two dozen waterfront condominium communities around Flathead Lake, there has historically been plenty of options for buyers who want the waterfront lifestyle without having to worry about maintaining a lake home.
Below is a summary of active and sold units for 2022. The condo market has followed the single-family waterfront market to record low inventories and increasing prices.