Flathead Lake Real Estate Sales
After an unseasonal warm March, winter returned to the Flathead Valley in April to break several longstanding records for snowfall and cold temperatures. As we move into May, green sprouts and yellow daffodils are announcing the change of season and expectations for warmer weather to come.
"Second Winter" did not stop several large waterfront transactions from closing in MLS. Carryover buyer demand from the run-on listings over the past 24 months is holding down inventory and propping up prices. There were seven sales closed during the month of April with over $16M in sales for the month. Adjusted price per front for 2022 rose to just over $8500/ft lake wide.
Buyer demand persists in all areas of the lake as market-priced listings continue to see multiple offers, while those with aspirational pricing strategies stagnate. We will soon find out if rising interest rates and inflationary pressures will have any type of cooling effect on the market moving into the summer months.
April Sales: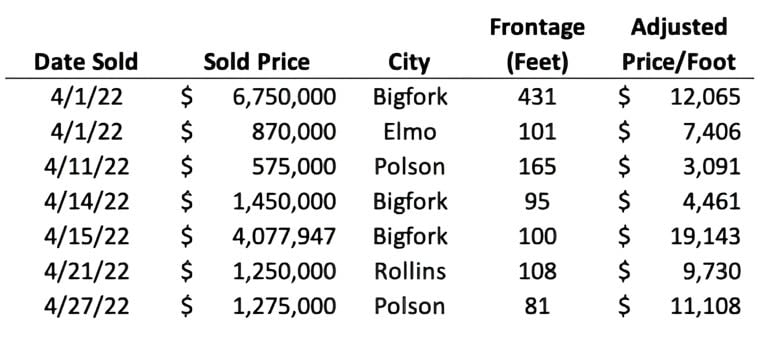 Pricing and Sales Summary: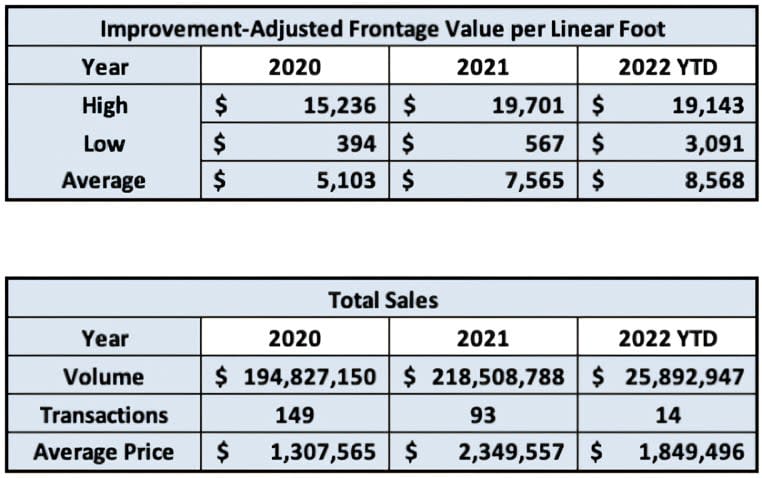 April Significant Sale
34160 Lorang Lane, Bigfork
431 Feet of Flathead Lake Frontage, 6.5 acres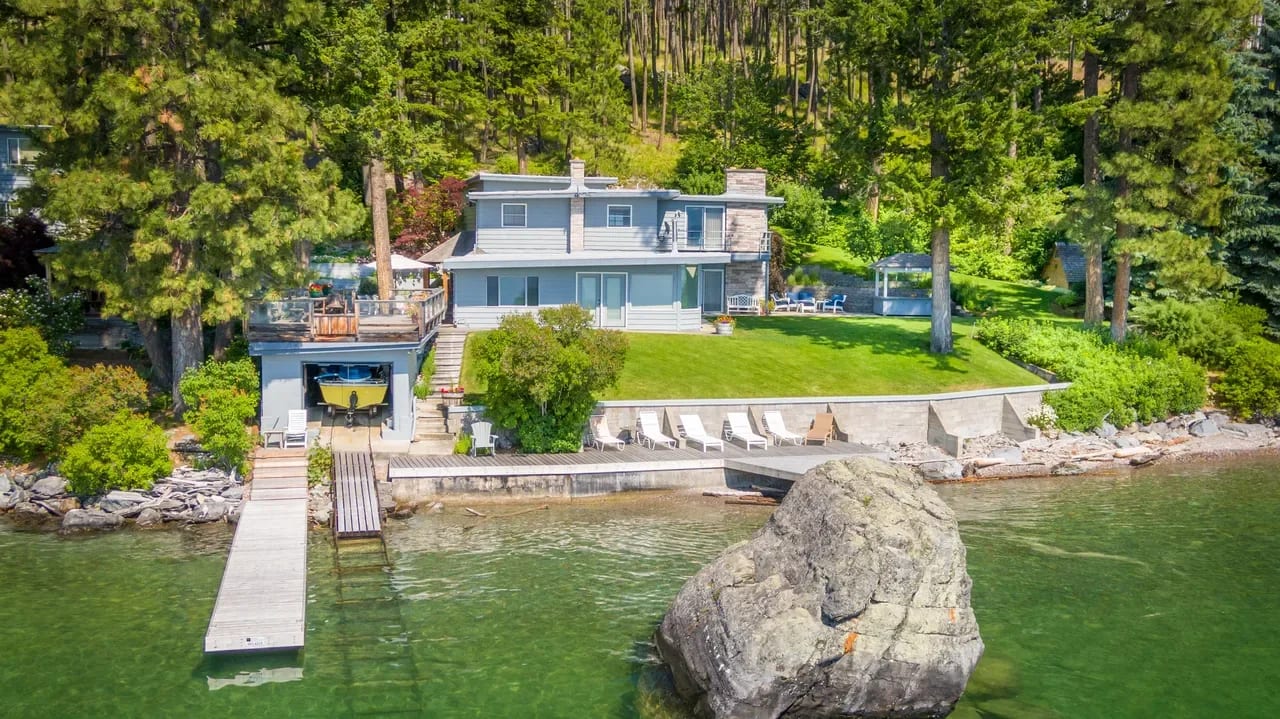 5,166 Total Sq Ft 5Br/6Ba
List Price: $6.995M
Classic, a mid-century architectural estate with iconic glacier rock resting at the edge of the 430.84 ft. shoreline is truly magnificent and attributed to the many features of this 6.52-acre legacy property. Located at the end of a private quiet lane. Extensive multi-level decking and water features connect the main house and guest house.
Steps away you will find a generous 2 car garage with shop and office. Lakefront living is easy with an extended dock system, a boat-in garage at the water's edge, a protective seawall, sunning deck, and a gravel beach on both sides. The property is platted into multiple parcels which allows for additional building sites with grand lake vista views. The 1 acre-dedicated, cherry orchard currently provides an impressive tax benefit to the estate.
Active Waterfront Listings
Residential and land waterfront inventory continues to shrink to record low levels. The combination of record sales over the past 24 months along with a lack of motivation for sellers to give up their Montana real estate continues to put downward pressure on inventory.
Total active listings in:
May 2019: 136

May 2020: 106

May 2021: 37

May 2022: 32
With the help of the widely acclaimed new listing at $72M on the market, median prices for residential listings jumped from last month to $4.25M, while land prices edged back up to just under $2.5M. With such a limited inventory of both residential and land listings, median price trends have become erratic with higher-priced listings coming on and off the market. The overall trend is that active listing prices have essentially doubled over the past 12 months.
Based on these data, it is possible that we have reached a plateau in prices and the sustainable bottom in inventory for the time being.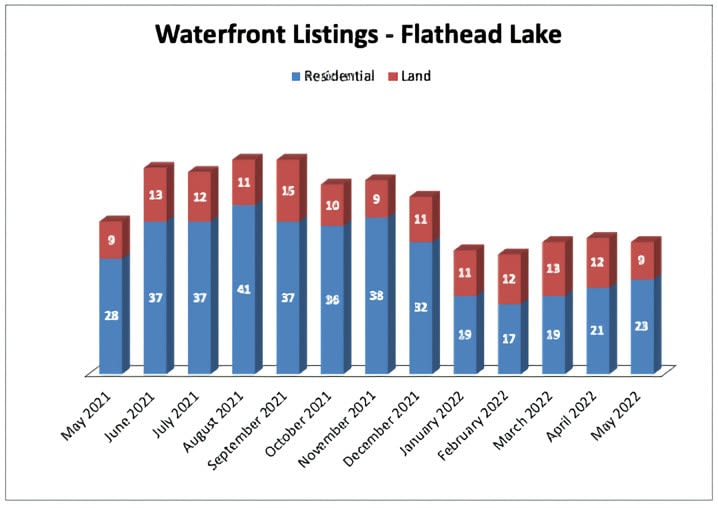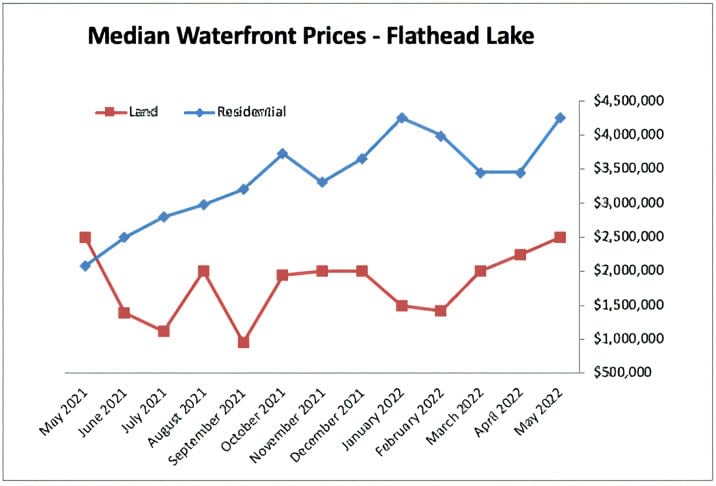 Flathead Lake Condominium Market
With over a dozen waterfront condominium communities around Flathead Lake, there has historically been plenty of options for buyers who want the waterfront lifestyle without having to worry about maintaining a lake home.
Below is a summary of active and sold units this year to date. The condo market has followed the single-family waterfront market to record low inventories and increasing prices.