Flathead Lake Real Estate Sales
2021 Annual Report
The 2021 Flathead Lake real estate market picked up where 2020 left off. All the pandemic-related factors that drove the local real estate market in 2020 continued – and even gained momentum – over the past 12 months.
The great migration of Americans from urban centers to nearby rural areas will be studied for years to come. With the realization that work and school can be remote along with the freedoms associated with smaller towns and communities, people of all demographics who had been looking for an opportunity to leave the city made their escape.
The Flathead Valley was one of several hot relocation targets of this national trend for the northwestern US, including waterfront properties on Flathead Lake.
The year notched sales records in total sales volume ($219M), average total sales price ($2.35M), and average adjusted price per linear foot ($7,565/ft).
The record-setting year for Flathead Lake real estate sales was capped off by the month of December with 10 posted sales and just over $24M in volume for the month.
---
December Sales: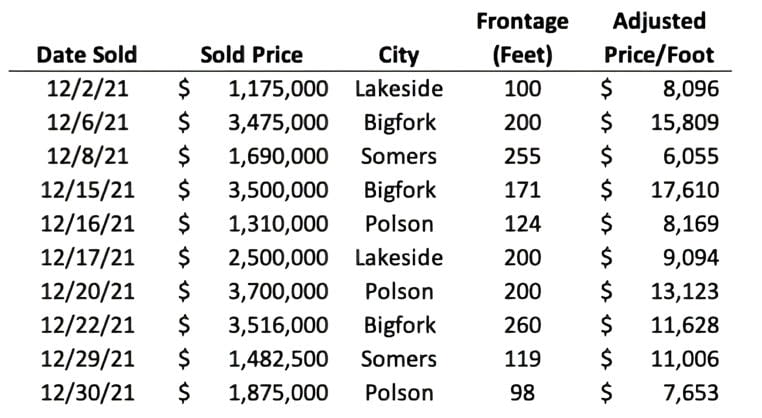 Pricing and Sales Summary: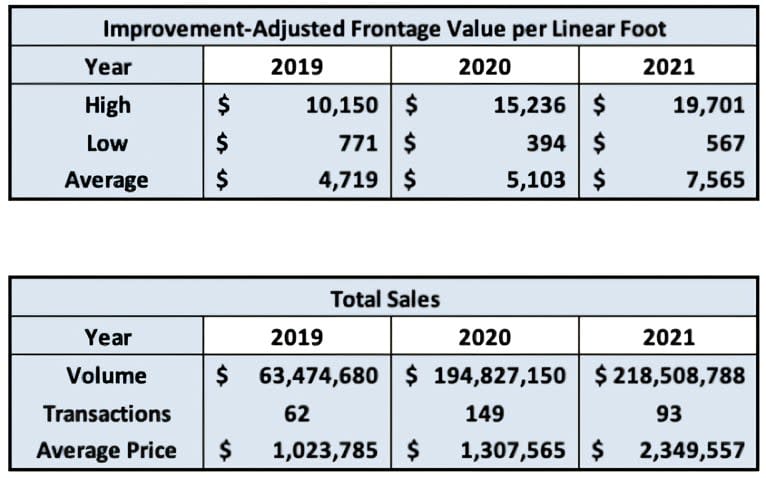 Year to date there have been a total of 93 sales on the lake, and there are currently only 19 active homes available on the market today. The surge in prices drove total sales well beyond the previous record set in 2020 ($219M vs $195M) while the number of transactions dropped by 38% (149 to 93).
The market shift to properties in higher price segments was significant. Properties selling for over $5M contributed to 37% of total sales volume for the year in only 9 transactions.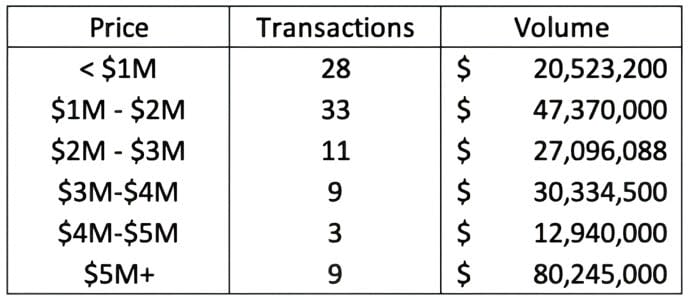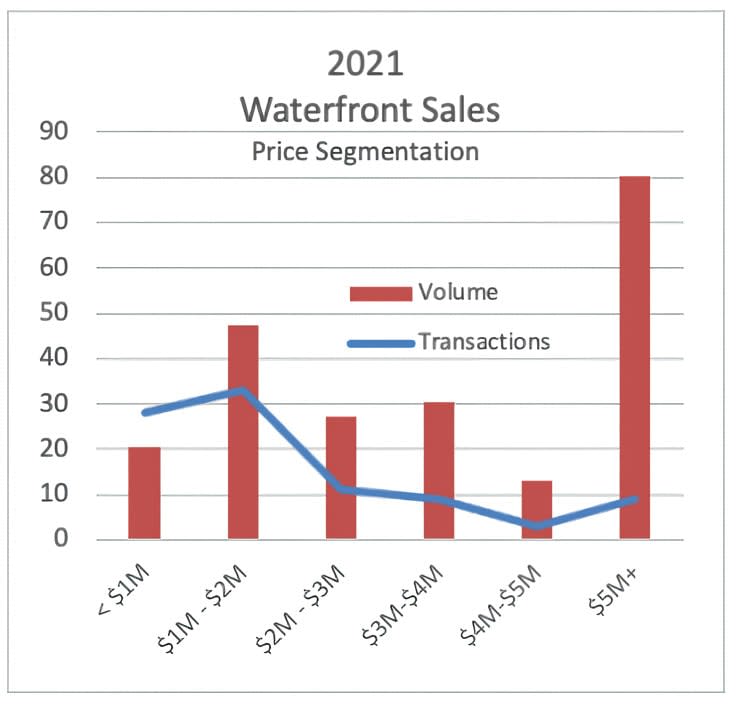 With $219M in sales volume from 93 transactions, 2021 is clearly in a league of its own compared to sales tracked over the past 17 years.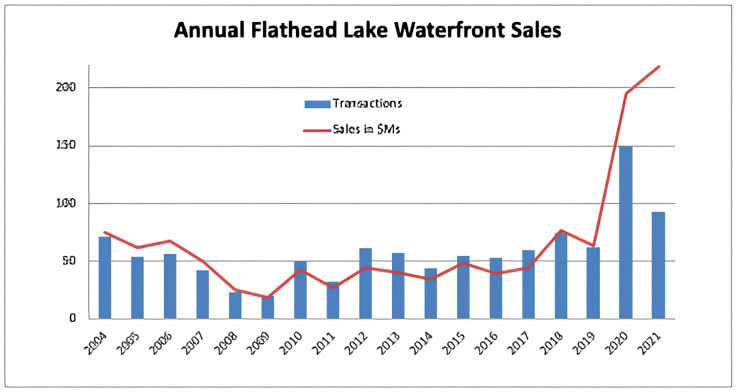 December Significant Sale
22581 Montana Highway 35 Bigfork, MT
260 Feet of Flathead Lake Frontage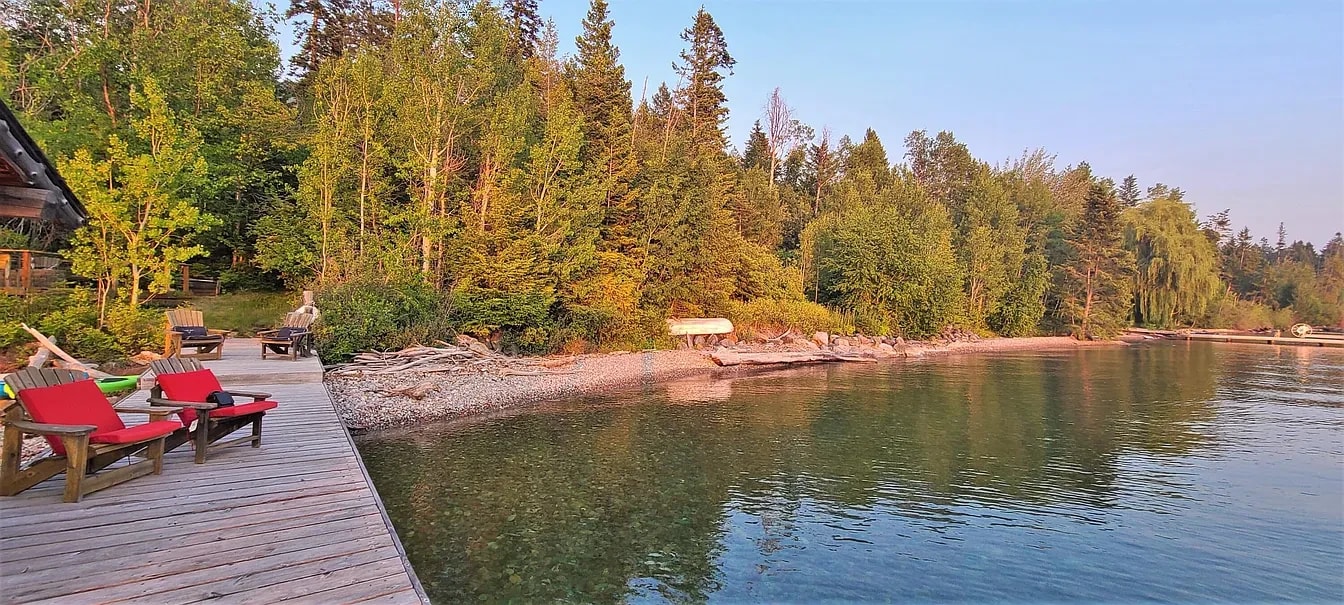 2,865 Total Sq Ft
List Price: $4.25M
Rustic elegance merged with modern amenities to bring you this incredible lakefront cabin in the woods. Step into this secret garden tucked away on the east shore of Flathead Lake and experience the serenity of bygone times. The property includes 5 acres, the main home, 3 guest cabins, a cherry orchard of 200 trees, 260ft of pebbled Flathead Lake frontage, and more. Furnishings included.
The wood used to construct the home, cabins, and dock was harvested and milled from this property. The abundant flora lends the grounds complete privacy from the neighboring properties as well as creates a virtual wildlife sanctuary.
Access is leveled through a large gated entrance off HWY 35 directly onto the property. No shared driveways or easements here. Power lines are all underground so as to not impede the view. The orchard is being converted to Organic and the tax benefits are immense.
Active Waterfront Listings
Residential and land waterfront inventory continues to shrink to record low levels. The combination of record sales over the past 24 months along with a lack of motivation for sellers to give up their Montana real estate continues to put downward pressure on inventory. Total active listings in January 2019: 111; January 2020: 107; January 2021: 30.
Median prices for residential listings settled up from last month to $4.25M, while land prices eased down to $1.5M. With such a limited inventory of both residential and land listings, median price trends have become erratic with higher-priced listings coming on and off the market. The overall trend is that active listing prices have essentially doubled over the past 12 months.
Based on these data, it is possible that we have reached a plateau in prices and the sustainable bottom in inventory for the time being.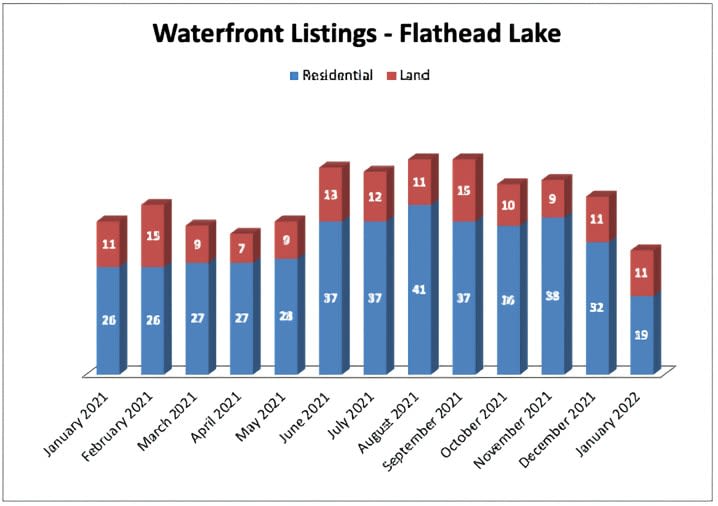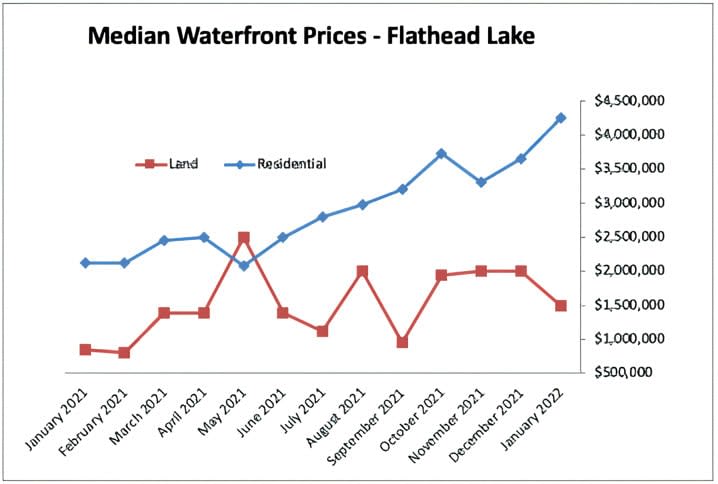 Flathead Lake Condominium Market
With over a dozen waterfront condominium communities around Flathead Lake, there has historically been plenty of options for buyers who want the waterfront lifestyle without having to worry about maintaining a lake home.
Below is a summary of active and sold units for 2021. The condo market has followed the single-family waterfront market to record low inventories and increasing prices.